Everbloom Escape
A place to relax and rejuvenate from the hectic life of this realm.
We offer cold-pressed juices, light meals and wellness services.
Open every Sunday 1:00 to 3:00pm CDT (2-4 EDT)
Plot 7, 13th Ward, Mist (Goblin)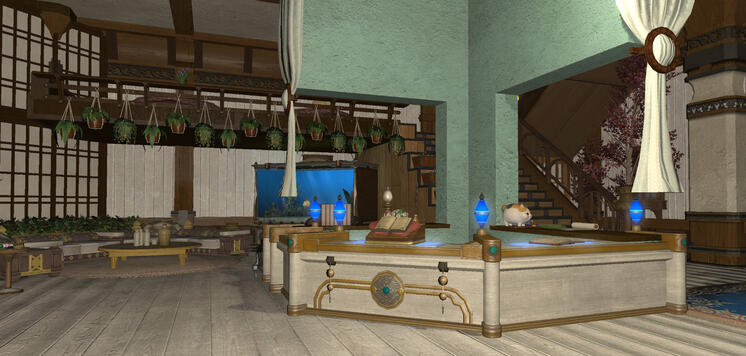 Services
Salt Cave
An Everbloom Escape exclusive! The salt and trace minerals that are present in the cave's atmosphere naturally draw toxins and impurities out of the body, reduce inflammation, and improve respiratory ailments. Perfect for the overworked adventurer!
Basic service can be for 15 or 30 minutes

Sauna
Relax in one of two saunas where you can customize your experience. Guests can control the amount of steam by adding water to the coals at any time during their reservation. A choice of aromatherapy oil is included, which can be mixed with the water for your pleasure!
Basic service can be for 15 or 30 minutes

Hot Spring
Our facility offers an outdoor hot spring where guests can soak while enjoying a drink from the juice bar, a treat from our kitchen, or an adult beverage.
Basic service can be for 15 or 30 minutes

Massage
(limited availability currently)
Let one of our talented therapists work lingering tightness and tension from your aching muscles.
There are several packages to choose from, or customize one with the desk staff.
---
Packages
All of our packages include choice of any drink, meal and dessert item on our menu.
All massage include water and choice of aromatherapy oil

-The Salty Healer-
This salt cave session is sure to have you breathing easier. Abalathian Rock Salt, which has a pinkish hue, is known for it's ability to relieve respiratory ailments and skin conditions.
15 min - 1,500 gil
30 min - 3,000 gil
1,000 gil each for additional guests in your party

-DPS Steam-
Sweat out the stress from that last raid. The heat of our sauna session will help increase circulation and joint mobility. So sit back and relax as the steam aids in purging toxins from your pores.
15 min - 1,500 gil
30 min - 3,000 gil
1,000 gil each for additional guests in your party

-Tankbuster-
One of our talented Massage Therapists will help stretch your tight spots and ease out tension from head to toe during this full-body massage.
30 min - 8,000 gil

-En Avant-
For the weary wandering adventurer, this calf and foot focused massage is for you.
15 min - 3,000 gil
30 min - 6,000 gil

-The Warden's Paean-
Is the weight of the would sitting square on your shoulders? Then this neck, shoulder and upper back focused massage is for you.
15 min - 3,000 gil
30 min - 6,000 gil

-Main Scenario-
The ultimate in indulgence! You are the main focus of this hour-long scenario!
Start off with a Mimosa, or fresh cold-pressed juice, from our bar before heading outside to the salt cave to have toxins purged from your body. Next, enjoy the steamy calm of the sauna or hot spring with choice of aromatherapy oil. After that, a massage therapist will greet you and show you to one of our private baths should you choose to rinse off before your full body massage. Post massage, the bath will again be available to you before you dress, head up to the lounge and are served the meal of your choice. Complete with any drink and desert on the menu!

90 min - 10,000 gil

Time breakdown is as follows:
Salt Cave - 15 min
Sauna or Outdoor Hot Spring - 15 min
Massage - 30 min
Please allow one and a half to two hours for this service. Advanced reservation recommended.
Special Event
Everbloom Escape proudly presents: Seaside Soiree

Join us for a couple of cute games, with prizes! As well as a RAFFLE.

Our RAFFLE Grand Prize this evening is a Rebel Coat.
You are automatically entered into the Raffle with every food or beverage purchase you make! (up to 5 entries maximum per player)

The names will be loaded into a random name picker at 9:30pm. The wheel will be spun and the name it spits out is the WINNER. You must be present to win!

Everbloom Escape proudly presents the list of our affiliates who have sponsored some of the prizes this evening!
Please check out their venues when you have the chance!

The Water's Edge: Rebel Coat HQ
The Raised Tale: Swimwear
The Stage: Dye, Minions, Barding
twitch.tv/damienhalofire: Dye, Furnishings
Dawn Radio/Masamune: Barding
Infinty Nightclub: Outdoor Furnishing
Additional Food for Purchase: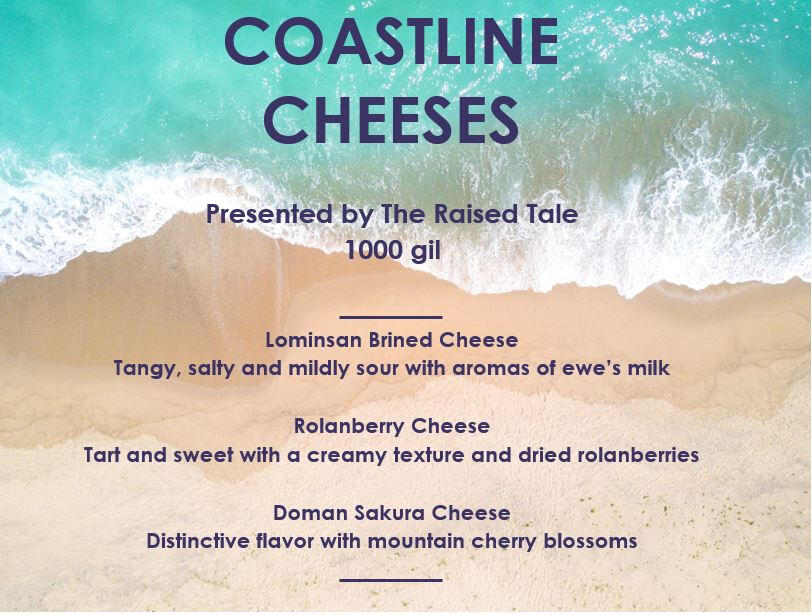 Contact

For more information, or to apply to work with us, please visit our Discord.
Please also explore our original venue: